Potatoes a la huancaína are present in almost all Peruvian households and certainly in all the menus of the restaurants of this nationality. They are without a doubt one of the most representative dishes of Peruvian cuisine with delicious ceviche. These potatoes are one of the most popular and traditional recipes that have been passed from generation to generation.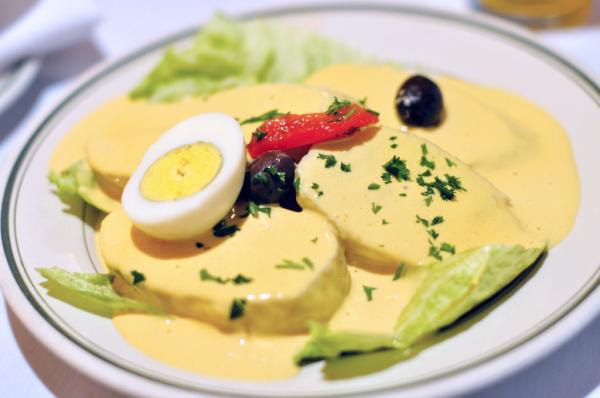 Ingredients:
1 kilogram of potatoes
1 unit of lettuce
2 medium-sized onions units
½ kg of hard white cheese
½ kg of walnuts
½ Cup of milk (120 milliliters)
2 units of peppers spicy yellow
2 soda biscuits units
1 jet of oil
1 pinch of salt
Preparation:
The first thing you should do is prepare the sauce for potatoes. To do this, put milk in a blender along with the onion previously peeled and cut. Starting mixing. Then add nuts, cheese and peppers and continue crushing. Then add the soda crackers to thicken the sauce. Now, add oil slowly and without letting beat, put salt. Sauce should be at its point, nor very liquid and very thick.
Reserve sauce and sancochar potatoes. When they are ready, remove them and cut them into slices. Put the lettuce in the dish to decorate, thereon the potatoes and cover with the sauce. Prepare potatoes a la huancaína is very simple addition are exquisite. We recommend accompany with white rice, boiled eggs or the Peruvian recipe that you like.