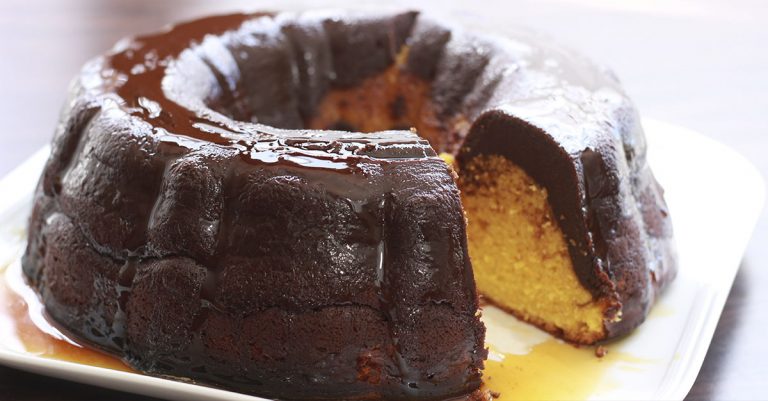 With coverage of Brigadeiro cake
Pax: 12 servings
CANDY
200 g of sugar
100 ml of water
BRIGADEIRO
3 eggs
100 gr of cocoa powder
400 g of condensed milk
200 ml of cream
CAKE
3 eggs
2 carrots cut (180gr)
200 ml oil
260 gr of sugar
260 g of wheat flour
15 gr baking powder
PREPARATION
In a saucepan, add sugar and water. Cook without stirring to form blonde candy and pour into the bottom of the pan.
From water and sugar candy is an easy way to do it, the only condition that has is that you must move or stir with a spoon or other utensil. Only can move the pot or satin handle.
When this take the Golden full color should be removed from the fire, if you leave it longer likely burning.
Be careful with the handling of candy, burns are painful, in the event of an accident, wet with water.
In a blender add the eggs, powdered chocolate, condensed milk and cream. blend well and pour into pan with caramel.
For the cake, add eggs, carrot and oil. Blend well. Add the flour and baking powder. Blend well and pour into mould, regardless of mixtures to meet together.
Bake at 180 ° C for 50 minutes to bath.
Leave to cool and serve.
To check the cake baking, insert a wooden stick. When removing it should come out dry.