Eating well at Christmas does not necessarily require a lot of expense. For example, this exquisite recipe is made using the remains of bread we have at home with dried fruits, chocolate, cinnamon and orange blossom water. It is very simple and will leave your family in awe, and you will also make sure nothing is wasted.
This snack is prepared in two and a half hours, and is of low difficulty.
Ingredients (for 10 people):
2 stale and hard bread loaves

120 grams of dried cranberries

100 grams of candied fruit

100 grams of honey

85 grams of chocolate pearls

75 grams of currants

75 grams of prunes without bone

1 1/2 milk

4 eggs

50 ml of orange blossom water

3 teaspoons of cinnamon powder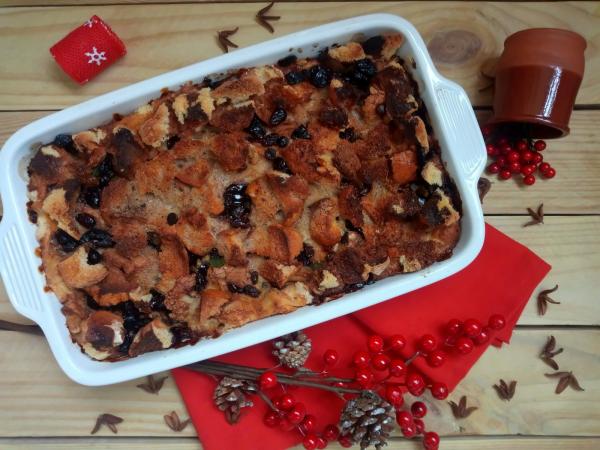 preparation:
We cut the bread into pieces and reserve. Instead of bread, we can also use vintage muffins, sponge cakes, panettone, brioche or roscón.
In a bowl, we put the frosted fruit in pieces, raisins, cranberries and chocolate. We cut the prunes and add them, mixing well. We reserve
We heat the milk in the microwave. We put the honey in a large jar and add the hot milk. After a couple of minutes, stir until the honey is perfectly integrated. Add the eggs one by one and beat after each addition until they are integrated. We add the orange blossom water, cinnamon powder and the rest of the milk. We mix until we integrate everything.
In a baking dish, put a cake of bread and cover it with the mixture of dried fruit and chocolate. Then we cover with more bread, we distribute a new amount of fruit, and so on until the fountain is filled. We pour the milk on it with great care, and trying to wet the whole surface well.
Let stand for half an hour, until the bread is well soaked.
We preheat the oven to 190 ° C and then bake the Christmas bread pudding until it is set. When it takes half an hour, cover it with aluminum foil to avoid burning the surface.
The time required for baking will depend on the size of the source. We will know if it is ready by pressing a wooden skewer in the center (if it comes out clean, it is ready), or moving the source (with gloves to protect us from burns), and if the center trembles slightly, it is because it is ready.
Leave in the oven with the door ajar until it cools, or let it rest on a rack. Serve tempered (if left, you can give it a heat stroke before serving it again).
It's really delicious!