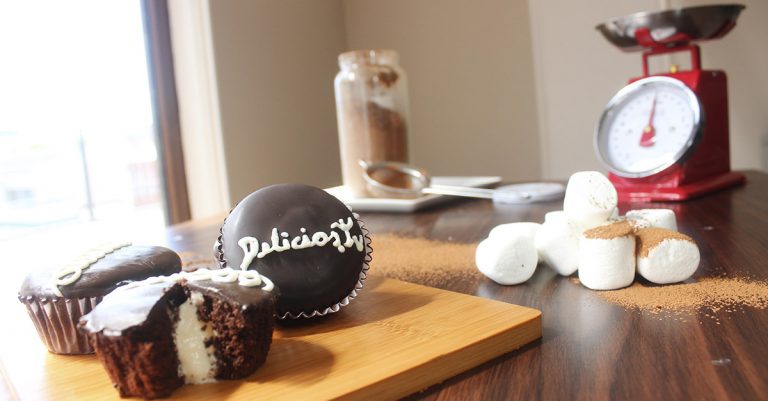 Penguins home
Pax: 10 units
INGREDIENTS
100 ml milk
10 ml of cider vinegar
125 g of butter
55 gr chocolate bar
180 g of flour
90 g of cocoa
5 g of sodium bicarbonate
5 gr baking powder
2 eggs
100 gr of sugar
70 g of brown sugar
10 ml of vanilla essence
FILLING
50 g of marshmallows
100 g of milk cream
100 gr of icing sugar
30 ml milk
PREPARATION
Melt chocolate with butter. Book.
In a bowl add the eggs, sugar, Apple Cider vinegar and vanilla extract, beating until a creamy consistency. Add the milk, flour, cocoa powder and powder baking, beat; Finally add the chocolate and the melted butter.
Put mixture into a mold for cupcakes and bake for 18 minutes at 175 ° C.
Avoid excess time during baking to avoid hard or crunchy; to see if they are ready insert a stick in wood in the Center, it should come out dry when removing.
FILLING
In a bowl, add milk and marshmallows, melt in microwave at 30-second intervals, Add vanilla extract, icing sugar and cream, beat until a a firm consistency.
Penguin Center cut and fill. Wash the surface with melted chocolate and let dry for a few minutes. Garnish with cream filling and serve.
The penguins should be filled immediately to prevent the filling to solidify. If this occurs, you must heat a water bath or melt a few seconds in microwave.
We recommend using Couverture chocolate semi sour or bitter, not sweet to balance the preparation.