We all love a delicious puff pastries, especially if they are sweet. They are irresistible, and precisely for this reason, it is not strange to be placed frequently in social gatherings.
But, do you know how to prepare them? If the answer is no, then you will be guided step by step.
The secret mass of the puff pastries
To prepare it, you will need the following utensils: a roller, a spoon, a knife, a cloth fabric, vellum, pastry brush, a bowl of glass and plastic paper (film). In addition, you must have the following ingredients.
Ingredients:
1 teaspoon salt (5 g)
2 sticks of butter with salt (250 g)
2 cups flour of average strength (240 g)
1/2 cup (125 ml) water
1/2 teaspoon (2.5 ml) lemon juice
Flour wheaten all use (to sprinkle the surface where we amasaremos)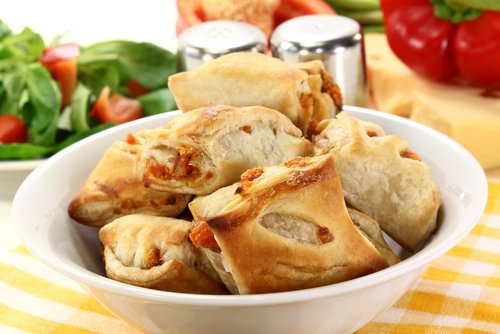 Preparation:
We put in a bowl the flour, lemon juice and salt, mixing until well blended and leaving a space to the center of the bowl to put the butter and water.
Add the butter and begin to knead, adding water little by little while we do it. Continue kneading until a dough elastic enough. When it is ready, we make a ball with it and let it rest in the refrigerator for 5 to 7 minutes wrapped in a clean and dry cloth.
When you have passed this time, remove the cloth and make a cross on the surface of the ball with a knife. Then, we took roll and flattened the dough to get four folds, always being careful that the center of mass is thicker than the rest.
In the center of the dough, put a little butter and cover it with the 4 folds of dough, forming a sort of square wrapped package. Each fold should be greased with just a little butter, using the brush, and flour.
With roller, we slightly hit the center of the package so dispose a little butter that we put, and leave in the refrigerator for 10 minutes.
Over time, we have developed the package, stretch the dough and rolled it with a simple fold. We took it to the refrigerator for another 10 minutes and we already have our ready puff pastry.
We must now knead with the roll on a surface dusted with wheat flour and use it according to the recipe you are going to cook.
The great trick to make this mass lies in the temperature of the water that we add: should always be warm so that the ingredients be mixed more easily. In addition, it is necessary to respect the time of kneading and resting. Note aside, some people use lard instead of butter, but that depends on your tastes.
Traditional recipe: puff pastry and Apple cupcakes
3/4 cup (150 g) brown sugar
1 tablespoon butter (20 g) salt
1 medium egg
1 teaspoon cinnamon (5 g)
The zest of one Orange
4 medium apples
Zest of 1 lemon
Puff pastry
(Ideally extra-virgin) olive oil
Almonds and spelt to decorate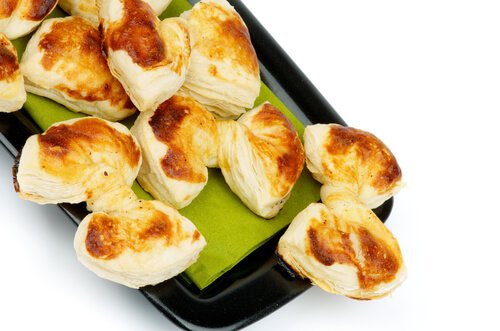 Preparation:
We trozamos apples in small pieces or cubes not too thick. Preheat a skillet over medium heat with a drizzle of extra virgin olive oil. Once it is hot, add the butter and will remove until it melts. Then, we add not apples and brown sugar. Try fremover constantly so that the ingredients don't burn.
In a separate bowl, grate the Orange and lemon peel, and then reserve it.
Add a teaspoon of cinnamon to skillet and stir until it is distributed in all the pieces of Apple. Let the skillet over low for 20 to 30 minutes, until ingredients become a sort of dense pudding, but without leaving Apple RID too so that it is not us as applesauce.
Meanwhile, we oil and enharinamos a tray to put the mass of puff pastries. We cut several squares of a medium-sized, and in the center of each add one portion of the Apple mixture. Wrap each square as if they were small "packets".
Open the eggs and beat them with a fork, drizzle a bit of egg on each package with a brush, so Brown during cooking.
We carry tray in the oven for 15 minutes at a temperature of 200 ° C.
When the cooking time has passed, remove from the oven and let cool the cupcakes at room temperature. Decorate with some spelt and almonds to taste.