It is very easy to prepare this recipe, and in addition you will take very little time. Cold tuna with sliced bread cake is perfect for any celebration, especially in the hot times where it is necessary to consume more fresh things. Then we'll show you the recipe with two distinct filler options, but you could put any filling you want in its place. You will see that it is very delicious and will leave your family very happy.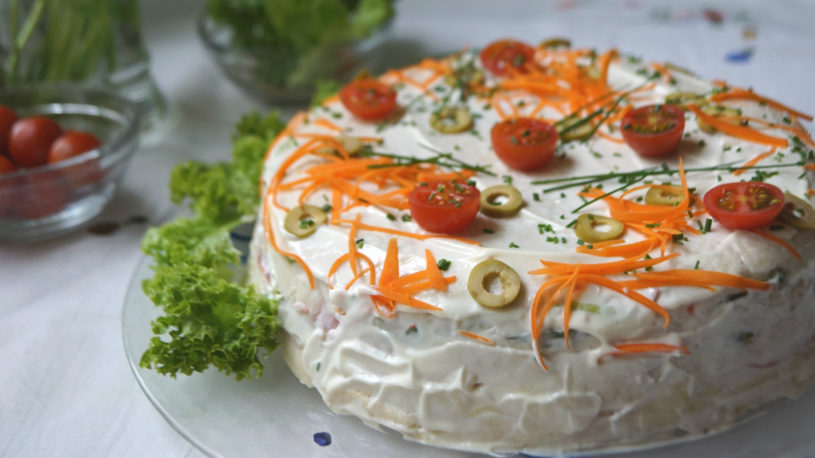 Ingredients: (for 12 people)
20 slices of bread
10 tablespoons mayonnaise
Salt
Carrot, olives, chives and tomatoes (for decoration)
Option 1 filling: 150 g of canned tuna, an onion, 1 tomato and 150 grams of olives stuffed
Filling option 2: 200 grams of surimi sticks and 5 leaves of lettuce
Filling option 3: 250 grams of ham and 250 grams of cheese in slices
Preparation
First filling (chopped tuna):
Chop onion and place in a bowl along with the chopped tomatoes, olives green sliced and canned (well drained) tuna. Season with salt and condimentalo with vinegar and oil or with two or three tablespoons of mayonnaise. It blends well.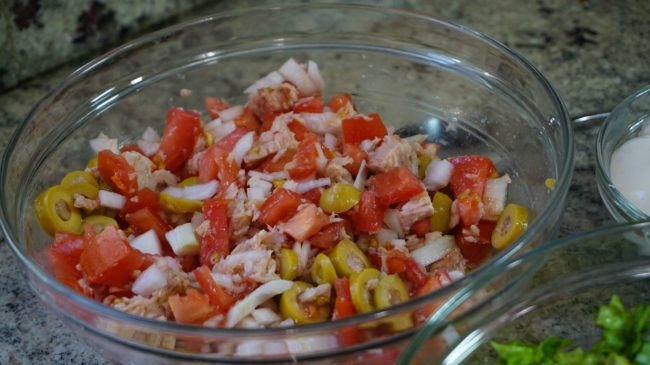 Second filling (surimi hash):
Pica surimi sticks or crab in a bowl (also can replace the sticks by hake or shrimp), adds some of the chopped lettuce and season with a little salt and mayonnaise. It blends very well.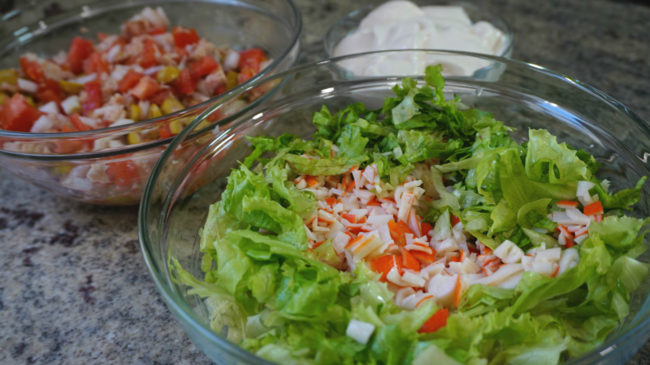 Now assemble the cake.
You can use a cake pan or any round mold about 26 cm in diameter and 6 tall. Line baking pan with plastic wrap to make it easier to unmold, and put layers of sliced bread by any vessel (you will have to go cutting them so it fits).
With a spoon, put the first fillings on top of the layer of bread and smooth well with the same spoon. Put a second layer of sliced bread, trying that the divisions do not coincide with the bottom to avoid that you disarm the unmold. Fill all the spaces with bread until it adopts a round shape, and then adds another layer of filling, using the spoon to flatten.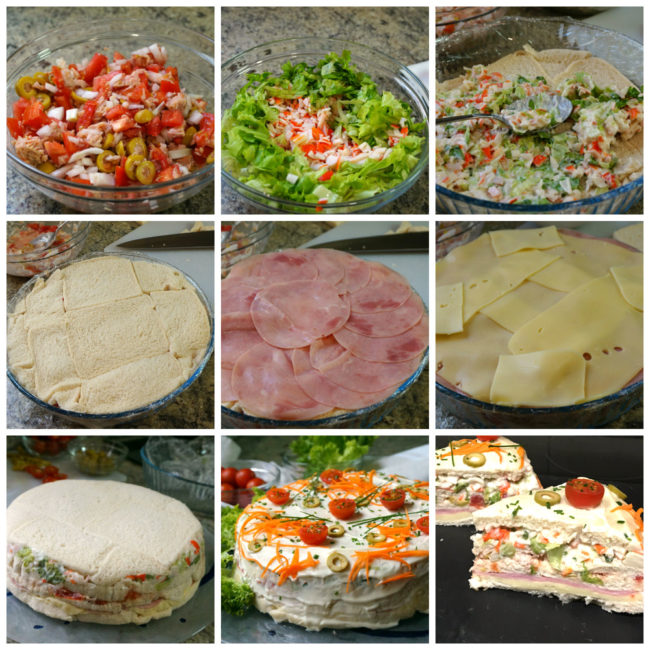 Sum a new layer of bread and over put a few slices of ham and cheese. Then put a final layer of sliced bread, this time dipped in mayonnaise to make them juicier. After finishing the cake, cover with film that you coveredst the mold and keep it in the refrigerator for at least two hours or, ideally, for the night.
Passed this time, decorate the cake. First cut some strips of carrot with the peeler and then cut them into little threads. Cut the olives into thin slices and tomatoes into halves.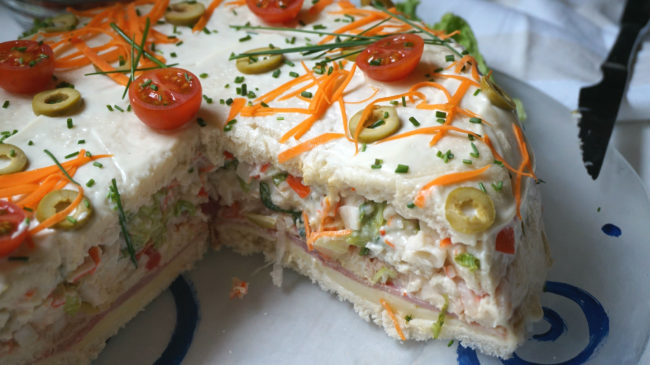 The amount of decoration is to your liking, and you can even add pickles, hard-cooked egg or more tuna.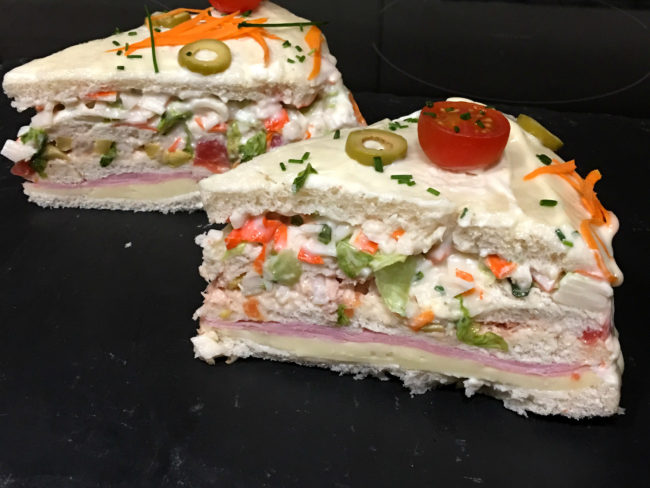 He put the paper volteandolo on a plate. Spread with mayonnaise and garnish to taste.