The original French toast made with stale bread and regular milk, but this variation with bread mold and condensed milk you'll love. You can prepare them baked or fried, as you wish, but always the first choice will be lighter and less oily.
Ingredients
14 slices of bread mould thickness
2 large eggs
1 jar of condensed milk
water
1 teaspoon of ground cinnamon
zest of 1 lemon
white sugar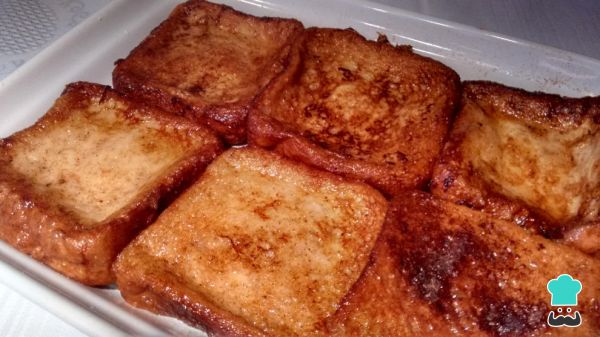 Preparation
Pour milk condensed in a container and fill the container with water to add it also. Mix.
Add lemon zest and ground cinnamon, beating with rods until you get a homogeneous mixture.
Slices of bread mold enters the mix and soak.
Beat eggs in a bowl aside and again spread the bread mould, carefully.
If you prefer to make the toast in the oven, Preheat to 200 ° C. Put the toast on a tray and bake for 15 minutes. Turn it over and heat for 5 minutes more.
If you frying them, drain oil that surplus and leave them on a paper towel for a few minutes.
In both cases, cool for 5 minutes and then sprinkle on top with ground cinnamon and white sugar to taste.
You can serve as a dessert or snack.