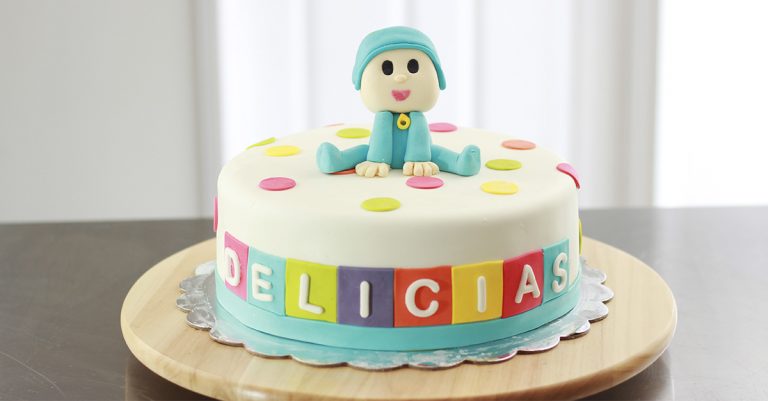 Fondant Pocoyo
INGREDIENTS
500 g marshmallow
900 g of icing sugar
40 ml of oil
250 g unsalted butter
300 g of icing sugar
10 ml of vanilla
Vegetable colors
PREPARATION
In a bowl add the marshmallow and oil, melt in microwave for 60 seconds, stir and melt 60 seconds more or until this is completely dissolved. Add sugar gradually to incorporate full and knead for 5 minutes. This must not be pasted into hands. Ready once the fondant stored inside a bag and let stand for 1 hour.
Divide dough and color.
The dyes must be vegetable food. They may be coloring liquid, paste, gel or powder. Of powdered dyes used, this should moisturize with drops of water.
It is restarted to use disposable gloves to not soil hands, nor the rest of the fondant. Colored once the mass should be deposar at least 1 hour, so coloring is compact with the mass. If possible, overnight fondant should be colored.
Wrapped in plastic wrap or bag, this to prevent drying and air hard crusts are formed should be stored.
To make the cream, beat the butter until doubled its volume. It should be light and creamy. Add the sugar and vanilla.
Buttercream (buttercream) should be made with butter to beat. It does not contain salt and its volume doubles or triples. You can buy houses in baking. If you do not find this butter, butter should be used Shaper or common butter without salt. To the beat, not greatly increases in volume, it is the only difference.
Cover the cake with butter cream and freeze for 30 minutes.
The layer of butter should be as even as possible. The fondant will take the form of this to be covered.
Stretch Fondant on the Inn, 0.5 cm approximately, you must be very thin, sprinkle cornstarch or chuño so it does not stick.
Cover the cake and smooth with the hands or accessory, must be as even as possible. Cutting edges or surplus.
To make decorations with fondant, it is recommended to use wooden sticks to set the figures. To paste or joining parts, you must brush with water. If the fondant hardens much, should soften in microwave a few seconds. No more than 10 because it melts easily.
Fondant figures should be left to dry at room temperature, harden completely with the passing of the days. To harden them in minutes, CMC (carboxymethylcellulose) should be used. An edible powder that is used to stabilize products, it also helps the elasticity of the dough.
We recommend using CMC 3 g per kilo of fondant.
It can also be used as adhesive in figures. Must dissolve a little bit of CMC in water. You must stand and can then be used. You will have a sticky texture