Exquisite salad recipe potato and boiled egg
The salad of potato and boiled egg that we bring you today is very simple and quick to make, delicious and nutritious. If we use light mayonnaise for processing, the result will be a much healthier fresh salad.
In addition, you can add more vegetables to the list of ingredients such as carrot or bell pepper, since these products only increase the nutritional value of the dish. Do not go and you'll discover how to make potato and boiled egg salad, a basic recipe that can not miss in your recipe book.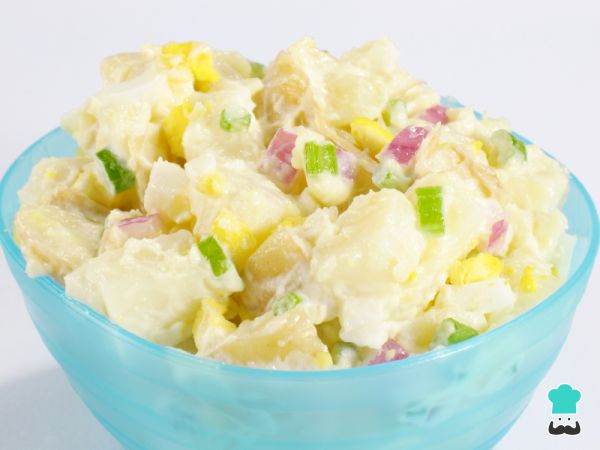 Ingredients:
4 medium-sized potatoes
½ piece of celery
1 pot mayonnaise
1 boat of olives
4 medium eggs
1 pinch salt
1 pinch pepper
½ piece of onion
Preparation:
Cook potatoes in water to boiling over medium heat and add a pinch of salt and olive oil if you want to enhance the flavor. In another pot, put the eggs to cook.
When the potatoes are ready, remove them and pass them through cold water. Peel the potatoes. Then cut into cubes the size that we like and put them in the source that will be used to serve the potato and egg salad.
Once the eggs are cooked, remove them from the Pan, pass them under cold water and remove the shell. Cut in trozoz and add to the bowl with the potatoes. Then chop small celery and add to salad.
Add the olives, cut in half and the red onion finely chopped. To complement the potato and egg salad, put the mayonnaise to taste, salt and pepper, and mix well.
If you want, you can make your own homemade mayonnaise. Or, if you want, you can replace it with tartar sauce for example. You can now serve the salad of potatoes and egg cooked as input and or single dish. You will not regret.