Prepare this delicious bread pudding easy microwave and in a short time with this step that we make available to you this day. You can surprise your guests with a dessert made in the microwave. You'll save lots of time preparing it this way, but don't think that it will be less wealthy.
Ingredients:
3 eggs
500 milliliters of milk
1 teaspoon vanilla essence
150 grams of bread bar or loaf
150 grams of sugar (¾ Cup)
1 lemon (zest)
For liquid candy:
200 grams of sugar (1 cup)
Preparation:
Put the milk, the rind of the lemon, the essence of vanilla and sugar in a bowl and mix thoroughly with a kitchen rods.
Add the bread mold or bar (can be hard or soft) crumbled in the mixture, stir and let that you soak well.
Tip: No matter if you add bread to the microwave bread pudding mix, because it will be soft to soak up well.
Prepare liquid candy putting some (200 g) sugar in a pot and cook it at bajo-medio until it begins to melt. Gradually add more sugar to finish with everything so go melting in a uniform way and no lumps remain. The caramel is ready when it has melted completely and you caught a nice golden color.
Tip: Instead of a home, you can buy already prepared liquid candy if you want.
Beat whole eggs in another bowl as and when they are ready to add them to the other. Stir with a fork until bread begins to crumble slightly or alternatively with an electric mixer or blender. Let stand a few minutes.
Meanwhile, with the candy still hot and liquid, cover the mold you want to use to make the quick and easy microwave bread pudding by the entire base and walls evenly.
Tip: Ensure that the mold is microwave-safe.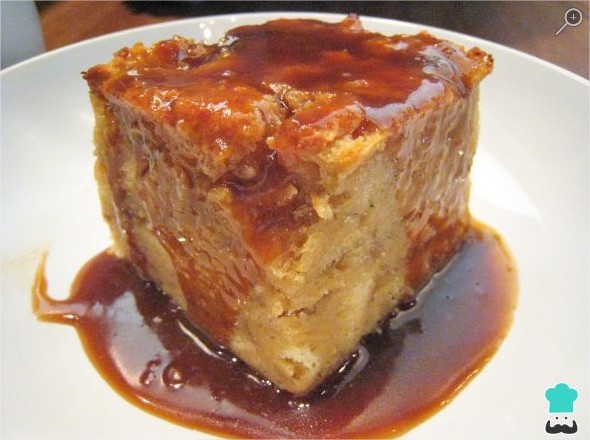 Once the liquid candy is completely dry, pour reposed the bread pudding mixture without oven in pan and cover it with cling film.
Take the bread pudding with caramel microwave and cook for 7 minutes to the half of the maximum power that has your appliance and then another 9 minutes at full power approximately.
Tip: Watch the last few minutes so you do not burn your microwave bread pudding.
Then, remove and let cool at least 1 hour before serving. So we get our microwave bread pudding easily.